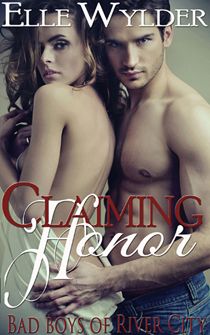 Bad Boys of River City Three
Available at Amazon

Honor Monroe leads a well-ordered life and she likes it that way. Sure, she may occasionally indulge in a walk on the wild side, but she always makes sure she has a way back. Then Hunter Wallace sets his sights on her. The man is nothing but trouble and she is oh so tempted to indulge. Certain it would be the rip her heart out kind of mistake, she stays away from him until a threat forces her to seek his help.
Hunter can't believe someone is stalking Honor–everyone knows she belongs to him even if she won't admit it. The one bright side is she needs him to keep her safe. While he's at it, he's going to make sure when the dust settles, he gets to keep her.